An appropriate mechanism is necessary to develop renewable energy sources in Vietnam.
With abundant sources of renewable energy, Vietnam has led the uptake of solar and wind power capacity among in Southeast Asia countries in recent years. Although there are effective incentive mechanisms, a new power plan and regulations are necessary to not disrupt the technology – finance – service chain and develop sustainable power sources. The 3rd Solar+Wind Congress and Expo revealed the concerns of investors and service providers on this issue.
Vietnam is currently in the top 10 countries investing largest in renewable energy in the world with USD 7.4 billion, surpassing the two economic giants, Germany and France.
With the goal of neutralizing greenhouse emissions (Net Zero) by 2050 as committed, the use of renewable energy in Vietnam as the dominant sources, replacing traditional electricity production, meet the needs of socio-economic development and ensure national security.
However, at present, investors put their projects on hold, waiting for the submitted Power Plan VIII to be approved, to have a direction in developing investment projects in renewable energy.
In order to share experiences in developing renewable energy in Vietnam, Energy Box, a leading media company for the renewable energy sector, organizes an exhibition and conference event for solar and wind energy. The conference on May 12, 2021 discussed policy, investment risks in Vietnam's renewable energy market.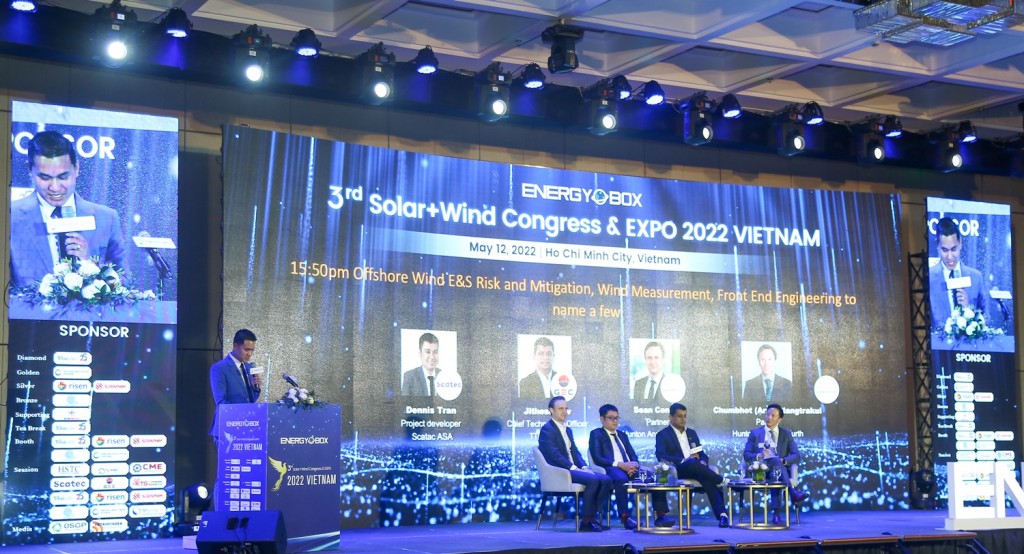 Panel- discussion
The meeting highlighted the following points:
Firstly, among the types of solar power generation in Vietnam, (including ground solar, rooftop solar and floating solar), the recent FIT price of rooftop solar is the best.
Secondly, by the end of 2020, 7755 MW of rooftop solar power (SMTP) has been installed and put into use, and yet Vietnam still has a lot of room for development. According to the drafted Power Plan VIII, the total technical potential of Vietnam's solar PV sources is over 48,000 MW. According to the World Bank's announcement, Vietnam currently has the most comprehensive installed solar power capacity in Southeast Asia and still has a lot of potential for Solar PV; Ho Chi Minh City can install up to 6,000 MW and Da Nang City over 1,000 MW.
Thirdly, thanks to the incentive FIT pricing policy under Decision No. 39/2018/QD-TTg dated September 10 2018, hundreds of wind power projects have signed purchase agreements and by the beginning of November 2021, over 5,000 MW has been installed, of which nearly 4,000 MW will be connected to the grid and recognized for commercial operation. But at present, the wind power development policy in Vietnam is limited by the expired Decision 39, pending approval of the Power Plan VIII, as well as the appropriate follow-up regulations. Investors are facing many difficulties in calculating the efficiency of the project as well as accessing credit capital for payment and debt repayment because the power purchase agreement (PPA) has not been completed yet. The difficulty in mobilizing loans is that the investment and payback period for wind power is quite long (roof solar power is about 5-10 years, other renewable energy projects are about 10-15 years), at the same time, commercial banks must comply with the ratio of short-term capital sources for medium and long-term loans, so there are still many potential risks
Attending this conference, IPC E&C, with the experience of Vietnam's best EPC contractor in wind and solar power services in 2021, shared difficulties as well as solutions to speed up the construction process.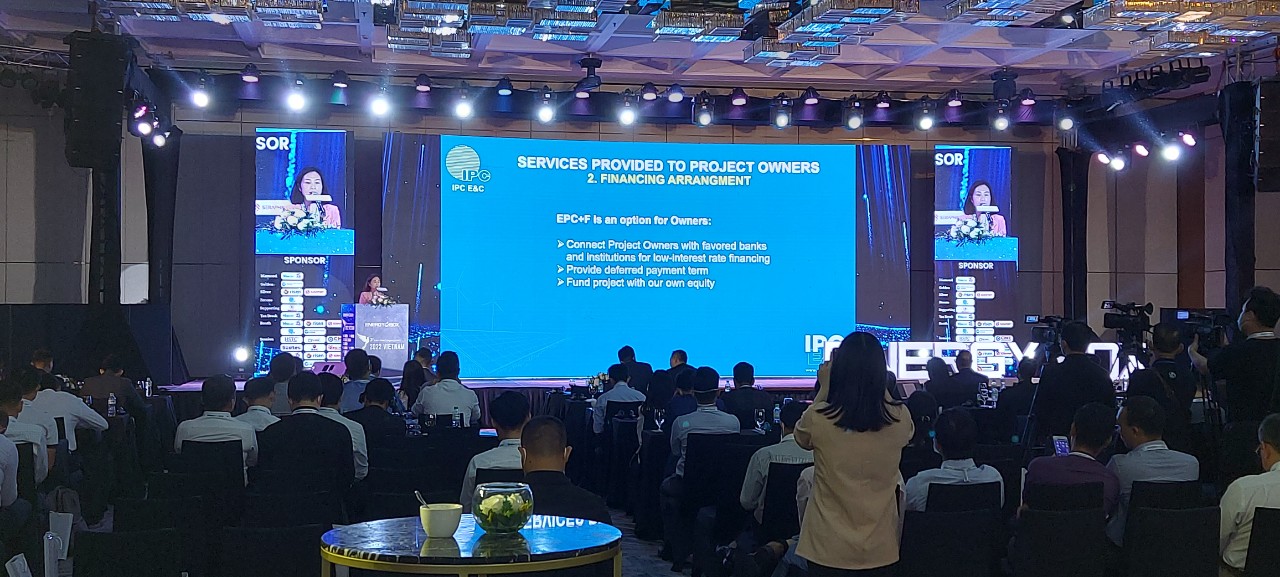 Ms. Ngo Quynh Lan – Business Development Manager of IPC E&C speaks at the 3rd solar and wind energy exhibition and conference.
According to Ms. Ngo Quynh Lan – Business Development Manager of IPC E&C, site clearance is one of the important "keys" not only contributing to speeding up the project implementation progress, but also completing urban infrastructure step by step, creating a driving force to attract investment. Currently, site clearance is still a "bottleneck" that directly affects the progress of projects, reducing investment efficiency for project owners.
Those reasons come from: i) Conversion of land using purpose, from agricultural, industrial… to energy production land; ii) Limited land fund for power project, especially for the safety corridor for turbine blades; iii) Lack of instructions and regulations for site clearance compensation; iv) Non-cooperation, obstructing construction to take advantage of part of local people.
Besides the familiar solutions such as negotiating and explaining to the people, appropriate propagate information via the press and hiring local subcontractors with advantages in site clearance are also the best solutions that the EPC Contractor can support the Investor.
To transform energy in the direction of sustainable development, reducing greenhouse emissions and other environmental pollutants, developing wind and solar power sources have been included in the Drafted Power Master Plan VIII on an increasingly large scale. However, if wish to process of renewable energy development, achieve goals, avoid interruptions, and minimize risks for investors, especially private investment, it is very necessary for the Government, the Ministry of Industry and Trade and the local People's Committees. promulgate mechanisms and regulations that are reasonable and strict, but convenient for implementation, and share benefits and risks with investors, banks and construction service contractors./.
Admin TVo  (source:Nangluongvietnam)
---
---
---