New Trends in Wind Energy O&M
In the first quarter (Q1) of 2021, renewable energy (wind power, solar power, biomass power) accounted for nearly 28% of world power  generation of nearly, an increase 5% compared to Q1of 2020. Meanwhile, in Vietnam, the renewable energy output reached 14.69 billion kWh, accounting for 11.4% and still growing strongly. Even when the Covid-19 pandemic broke out, Vietnam's total renewable electricity output in the first six months of 2021 still increased by more than 150% compared to the same period in 2020, mainly due to an increase in output from wind power.
Along with the
rapidly
growth rate of wind power
energy
, optimizing associated services such as reducing operating and maintenance costs (O&M) and improving reliability have become the top goals of the turbine maintenance strategy.
Wind O&M
costs typically account for 1
1
% to
30
% of the
total levelixed cost of electricity
(LCOE) of
current
wind power system
.
Operation and maintenance (O&M) services are extremely important to the wind power plant, which is the foundation for ensuring the system's continuous operation with high efficiency, minimizing potential risks during the operation process  (especially risks that may lead to downtime), while helping to increase the lifetime of equipment such as turbines, switchgear, transformers, transmission lines, etc.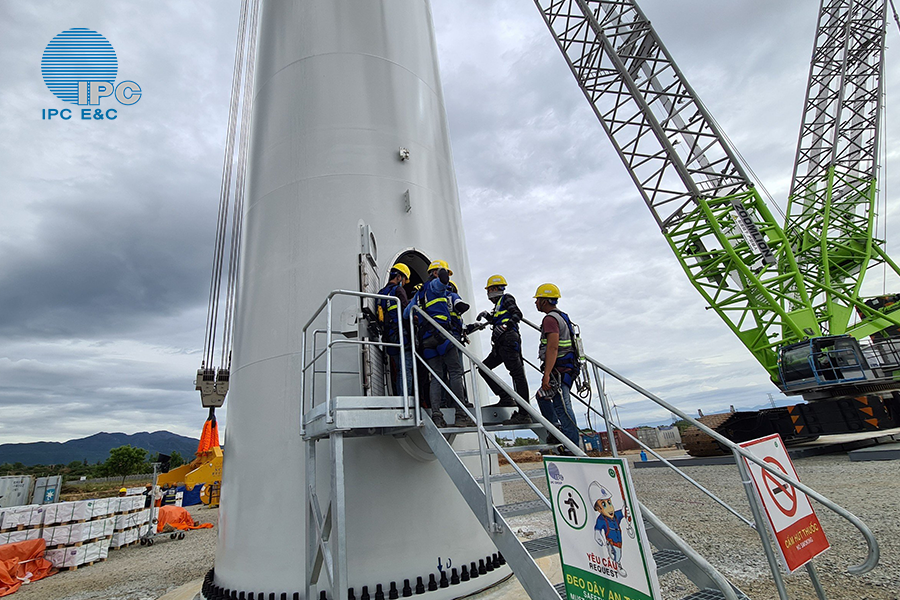 In addition, the complexity of turbines and the increasing project scale make O&M business grow more and more. For turbines, wind turbine manufacturers (100% foreign company) often provide O&M services for their turbines. Therefore, if Vietnamese enterprises can build a team of qualified human resources for for (BOP) facility O&M service in this field, they will be able to meet the needs of local renewable energy market and provide more effective solutions with lower costs for investors than O&M service of foreign enterprises.
As the leading Vietnam EPC contractors for power projects, IPC E&C has successfully implemented up to 1 GW of renewable energy in 2021 with 650MW of wind farms, 650MWp of solar farms, 50MW of rooftop solar power, substation up to 220KV and hundreds of kilometers of transmission lines. Building on that industry experience, IPC E&C now not only plays the  EPC roles, but also provides operation and maintenance (O&M) services for independently invested energy projects.
Mr. Tran Duc Trung, CEO of IPC E&C, commented: "IPC E&C looks forward to leveraging our depth of experience to help our Clients achieve operational expectations. With a growing work force of highly skilled and well-trained engineers in Vietnam, we can provide O&M services comprehensively so that the Facility can be operated, maintained, tested and inspected efficently, safely,  economically and reliably. With a growing workforce of highly skilled and well-trained engineers in Vietnam, we can optimized our services and technical strength in the region. We also have close partnership with Envision, Goldwind, GE, Canadian Solar, Sungrow… manufacturers  to help investors fulfill all warranty obligations with manufacturers".
IPC provide the operations and maintenance services for the Facility, including the collection system, substation, transformers, tranmission lines, switchgear, equipment, machinery, fiber optic cables for the supervisory control and data accquisiton (SCADA) system, control system, communication systems, foundations, piles, O&M facility, and road…
With nearly 10 years of experience and nearly 100 full-time trained and certified technicians, IPC E&C has the resources and experience to operate and maintain, and optimize power plant efficiency.
Admin TVo (Source: TẠP CHÍ NĂNG LƯỢNG VIỆT NAM)
---
02/12/2021
| 142 lượt xem
---