UPC Renewables and IPC: Cooperate to develop renewable energy in Vietnam
UPC Renewables Group and IPC Group have signed a JDA to seize opportunities for joint development of wind power projects in Vietnam.
Vietnam is rich in renewable energy resources with plenty of sunny and windy areas and hosts a robust transmission line system which is a promising field for cooperation among investors from Vietnam and the United States.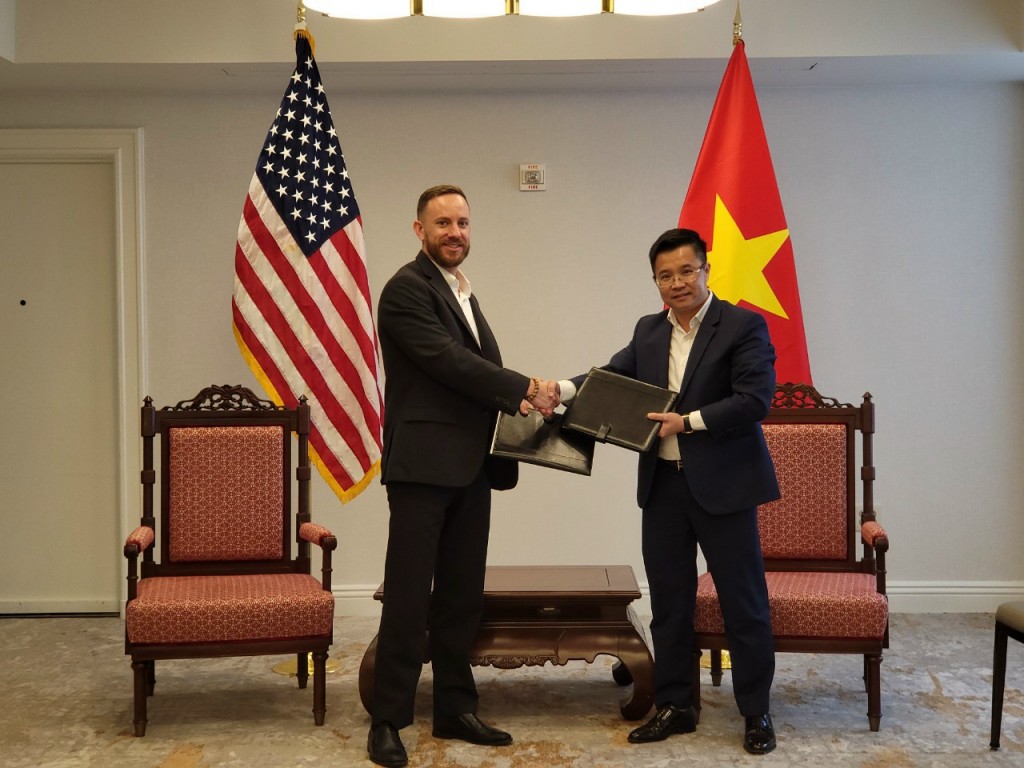 JDA signing ceremony between UPC Renewables Group and IPC Group.
In May 2022, UPC Renewables Group and IPC Group signed a Joint Development Agreement in order to perform together feasibility analysis, environmental assessment, development, construction, management, and financing for renewable power plant projects in the Vietnam market.
Both parties are committed to providing sustainable renewable energy development solutions to minimize negative impacts on local environments and taking this opportunity, to apply advanced turbine technology to deliver cost-effective clean energy solutions which will help accelerate Vietnam's goals for renewable energy production.
Both parties also promise to make efforts to implement the projects safely and effectively and offer more added values besides economic benefits: promoting the stable development of the economy and infrastructure of local communities, contributing to creating a green, clean, convenient, and economical living and working space, and minimizing adverse impacts on the environment.
UPC Renewables Group, a leading worldwide renewable energy developer, is an American private and independent developer. UPC Renewables has more than 20 years of experience in development, construction, and operation in the renewable energy sector with more than 73 wind and solar projects in 5 continents and total investment capital of 8.4 billion US dollars. UPC has developed wind and solar power plants globally with a total installed capacity of more than 4,500MW and 1,200 turbines installed. Following the successes in the pioneering markets in the United States, Canada, and Europe, UPC Renewables has expanded its footprint to promising markets in the Asia-Pacific region including Vietnam.
IPC Group is a renewable energy Project Developer and a leading EPC Contractor for the renewable energy service sector in Vietnam. In 2021, IPC Group (IPC E&C) was honored as the best EPC Contractor in the wind and solar energy service with a total capacity of 1,3 GW including 650MWp of farm solar power, 50 MWp of rooftop solar power, 650MW of wind power plants, substation up to 220kV and hundreds of kilometers of transmission lines.
Along with EPC contracts, IPC provides Operation and Maintenance (O&M) and expands to steel structure production, infrastructure, and synchronous M&E solutions for factories and urban areas.
With the goal of building large-scale, highly complex wind power projects in Vietnam, the combination of the strengths of UPC Renewables and IPC Group along with appropriate business strategies will gather momentum for the establishment and development of the relationship with local communities and efficient exploitation of renewable resources in Vietnam./.
Admin TVo.
---
---